Our family went to the Gorgeous festival on Saturday.  Although going to festivals is one of our priorities in life – this was our first time to Gorgeous. Hosted by Alistair and Sally Cranney at the Serafino Winery in McLaren Vale this gorgeous day couldn't be more up our alley!
It was HOT…..so of course, being in the mood to celebrate not only the unleashing of another Dragon, but also my birthday….we headed straight for the champagne bar. Enjoying the cool bubbles with an amazing fish taco we watched the boys ice skate from under the shade of an enormous gum.
Yes, I did say ice skating!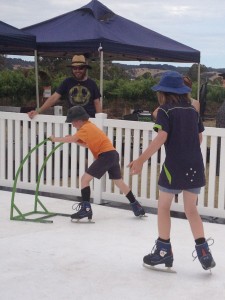 Unfortunately, the ice was not real, but the slipperiness was, and kids and adults alike pirouetted through the vineyard to the sounds of Sasha March, The Timbers and Little May waiting for the day to cool. A definite SnowDragon moment enveloped me as I smiled at the surreal combination of Ice skating, vineyards and a hot summer music festival.
Late afternoon we sucked on the best nectarine ice blocks I have ever tasted before settling into watch the Beautiful Girls and Waifs, sharing a lovely glass of red and some very delicious vegetarian "delectaballs" with beautiful friends.
The highlight for me was sitting in a ferris wheel cage at night, run by the most time generous wheel driver ever, looking over the dimly lit vineyards surrounding our campsite. A cool breeze in my hair and Xavier Rudd in my ears – A Gorgeous Dragon Day.